A hop-on/hop-off bus ride is a great way to explore the city of Prague. As long as your ticket is valid, you can hop on and off at any stop and easily reach the main sights of the Czech capital.
Unfortunately, the Prague Visitor Pass and the Prague CoolPass no ride on hop-on/hop-off buses. Consequently, if you want to explore Prague this way, you will need to buy an additional ticket. These are usually valid for between 24 and 48 hours.
Here we present the two main providers of hop-on hop-off tours in Prague. In addition, there is a tram for tourists:
| | | |
| --- | --- | --- |
| | | |
You can find more information here: Hop-on hop-off Prague
Is a sightseeing tour in Prague worthwhile?
Prague's Old Town is manageable and easy to explore on foot, but some sights are located outside the city centre or on the other side of the Vltava River. A city tour is the best way to discover all these sights, either on a single tour or thanks to the flexible hop-on/hop-off concept, where you can hop on and off as many times as you like.
In summer, you can enjoy the fresh breeze through the open window while Prague's sights pass by. In cold and rainy weather, the heated passenger compartment provides shelter and comfort. With a pre-recorded audio guide, you can learn more about the sights of the Czech capital.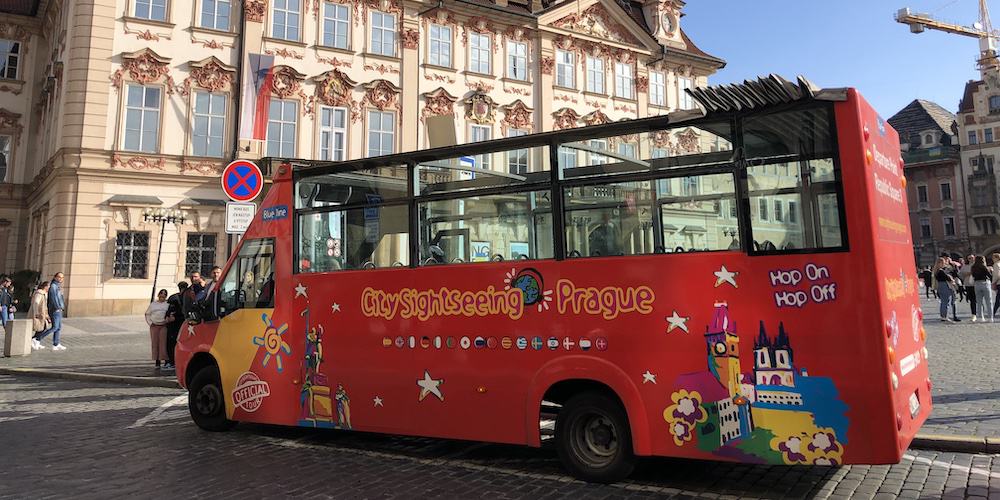 Please note, however, that the buses are part of the city traffic and may therefore be stuck in traffic jams. This can cause delays in the tour and the buses are not always on time. Also, the audio commentaries are sometimes less entertaining and the headphones are sometimes defective.
So if you are prepared for the fact that not everything will be perfect and if you remain calm, you will have a very pleasant sightseeing tour in Prague.
Prague sights
The hop-on/hop-off buses take you to many of the most important sights in Prague. The buses of City Sightseeing mainly operate in the city centre. But with the buses of the Czech provider Hopon-Hop-off.cz you can also reach attractions that are located outside the city centre.
You can visit the following sights with the buses:
Charles Bridge & Bridge Towers
Prague City Hall and Old Town Square
Prague Castle
Jewish Quarter
Kafka Museum
Wenceslas Square
St. Vitus Cathedral
National Museum
Dancing House
Petrin Tower
Sometimes you have to walk a few minutes from the respective stop, but often you can get off directly at the sight.
Stops & Timetables
Here you can find the routes and timetables of the hop-on/hop-off providers in Prague:
Hopon-Hopoff.cz
City Sightseeing
Timetable: 9:30 a.m. to 4:00 p.m. every 30 minutes
Tourist Tram
Timetable: Friday, Saturday, Sunday from 10:00 to 17:20 every 40 minutes
| | | |
| --- | --- | --- |
| | | |